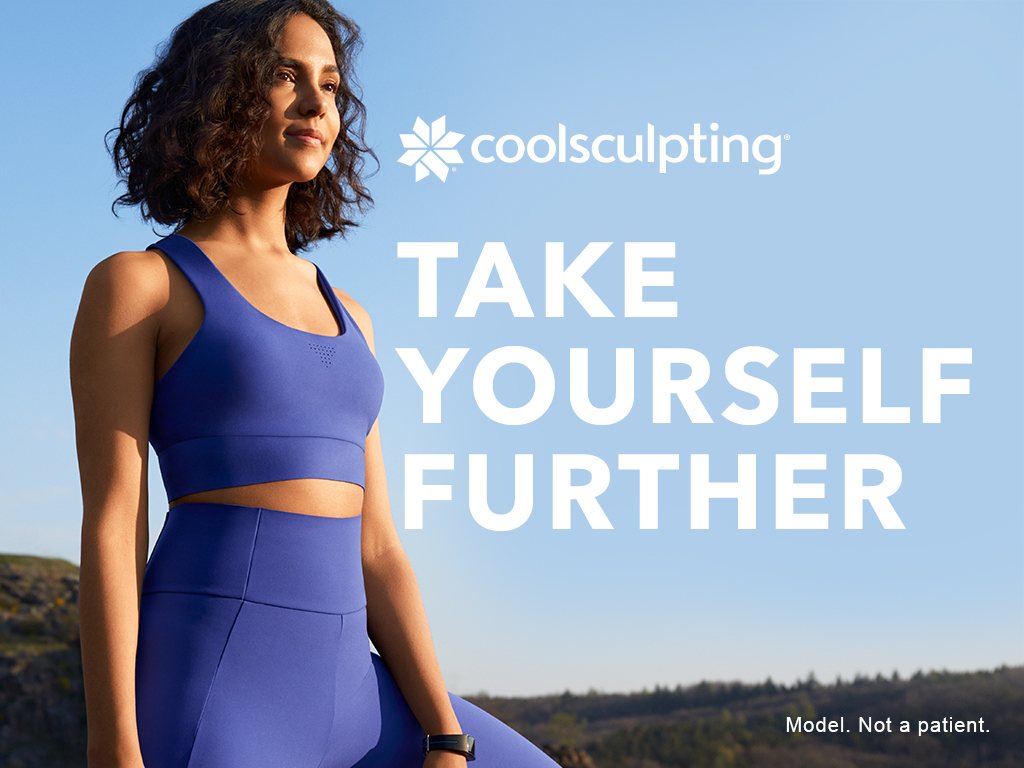 CoolSculpting for Fat Reduction
Huge savings – don't delay! Call today!
CoolSculpting® is a non-surgical fat-reduction technology available to Toronto-area residents through Mississauga physician Dr. Deborah Seib. The innovative CoolSculpting® device safely performs cryolipolysis (fat freezing) to permanently eliminate fat cells, which are more sensitive to extremely cold temperatures than surrounding skin, nerves, or blood cells. CoolSculpting® precisely targets fat cells, cooling them to the temperature at which they begin to release cytokines (signaling chemicals), which in turn trigger a process called apoptosis, or cellular breakdown. As the cells shrink, they send signals to macrophages to eliminate the damaged cells, using the same elements of the immune system that rid the body of dietary fats. Although it might sound complicated, CoolSculpting® cryolipolysis is a simple office procedure that can permanently remove fat cells and improve body contours.
CoolSculpting® is a non-surgical alternative to liposuction, but it is not an alternative to diet and exercise. In fact, Dr. Seib believes that the best results are achieved in patients who, in spite of eating well, maintaining a healthy BMI, and exercising regularly, still retain isolated pockets of fat. The best candidates are no more than 20 pounds over their ideal weight. CoolSculpting® can effectively reduce fat deposits on the following common trouble spots:
Flanks (love handles)
Hips (muffin top)
Upper and lower abdomen
Inner thighs
Male chest
Upper arms (bat wings)
Bra bulge

"If you have diet- or exercise-resistant fat deposits and would like to determine whether you might be a good candidate for CoolSculpting®, contact the Mississauga office of Dr. Deborah Seib today. Request your consultation by email, or phone (905) 712-4094"
The CoolSculpting® technology is advanced, but the procedure itself is quite simple, beginning with an initial consultation to determine appropriate treatment areas. Dr. Seib then uses the CoolSculpting® device to apply controlled cooling to each localized bulge of fat by positioning it in a special applicator.
Once the CoolSculpting® device is in position and the session has begun, most patients feel pressure and intense cold, which eventually dissipate. Dr. Seib encourages patients to relax, read, watch a movie, check their email, or even nap during the procedure. Cryolipolysis sessions last approximately one hour, but can vary according to the number of areas being treated.
Directly following cryolipolysis, some patients experience the following side effects, which typically resolve within two weeks: redness, minor bruising, tingling, or numbness in the treatment area. Many of Dr. Seib's patients choose to return to work or their normal activities immediately after their appointment.
Most patients see initial results within three weeks of treatment, but because the body continues to eliminate fat cells, the most dramatic results become visible approximately three months after cryolipolysis. The fat cells are permanently destroyed, so as long as patients continue to maintain their weight, results will generally last.
Dr. Seib works closely with her patients to create a personalized treatment plan to help them meet their individual goals. For some, one CoolSculpting® treatment is ideal, but others may need two or more to achieve optimal results.
The CoolSculpting® technology is based on years of rigorous scientific research, including numerous randomized controlled clinical trials. Since its commercial availability in 2010, more than 1.5 million treatments have been performed worldwide. Complications are extremely rare, and any side effects from the procedure usually diminish within the first two weeks. For fat reduction, many patients are pleased to have a safe, effective, nonsurgical alternative to liposuction—which can cause more serious side effects and lead to post-surgical complications.
During your consultation with Dr. Deborah Seib, she will explain in details all risks and potential side effects of CoolSculpting® and support you in your decision about whether it is right for you. To schedule your appointment with Dr. Seib, send us an email, or phone our office at (905) 712-4094.